Luveta is pictured here shipping boxes to her next show!
How We Got Started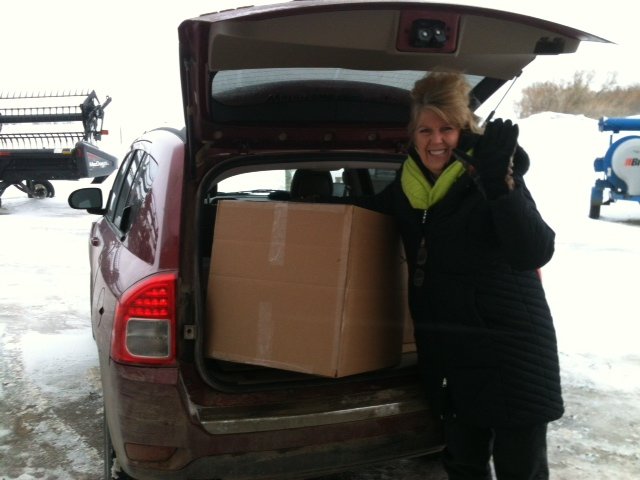 In 1979 Luveta opened a fabric store on main street Clark,SD and found after 10 years keeping her little store afloat was a challenge. She went on the road promoting how to recycle old blue jeans selling her own line of patterns and add on's and her business soon became The Junk Jeans People. She lives on a working farm and helps her husband, Steve Wicks, with a cattle operation. Her love of country living and her intrigue for making "Something from Nothing" is a perfect match for recycling old Jeans.
At a very young age, Luveta started collecting jeans not knowing that someday..... it would become her livelihood. Curious about the workings of zippers, tack buttons, rivets and even the purpose of holes in the knees, prepared Luveta in those early years, for cutting, ripping and tearing her current creations.
At one time she tried to count the mountains of collected blues but gave up somewhere around 3,000 pairs. She most recently started perusing the second hand stores for colored jeans to add to the pile. Luveta has patterns, books, notions and many television appearances to her credit.

Luveta is pictured below buying Zippers and Lace in Mexico!


She most enjoys traveling internationally and throughout the United States teaching sewing classes of all levels but specializing in recycling old jeans. Her students deem her classes as being Easy, Educational and Fun! Nicknamed "Jean Queen" and the "Denim Diva" by some of her attendees gives you an idea of how approachable and lighthearted Luveta can be. However, you won't leave any of her classes or lecture demos without

learning a no-nonsense, professional EASY way of assembly and technique. You'll think, "Why didn't I think of that?"

Please visit the pages that follow and find garment patterns, craft projects, quilts, notions and many ideas for your own denim creations!
Hope your Day is Riveting!
Luveta Nickels
We want to take this opportunity to encourage NEW visitors to our web site and to THANK our loyal patrons for the past 35 years.